2021: THE CRUST TRANSFORMS
29 Aug 2021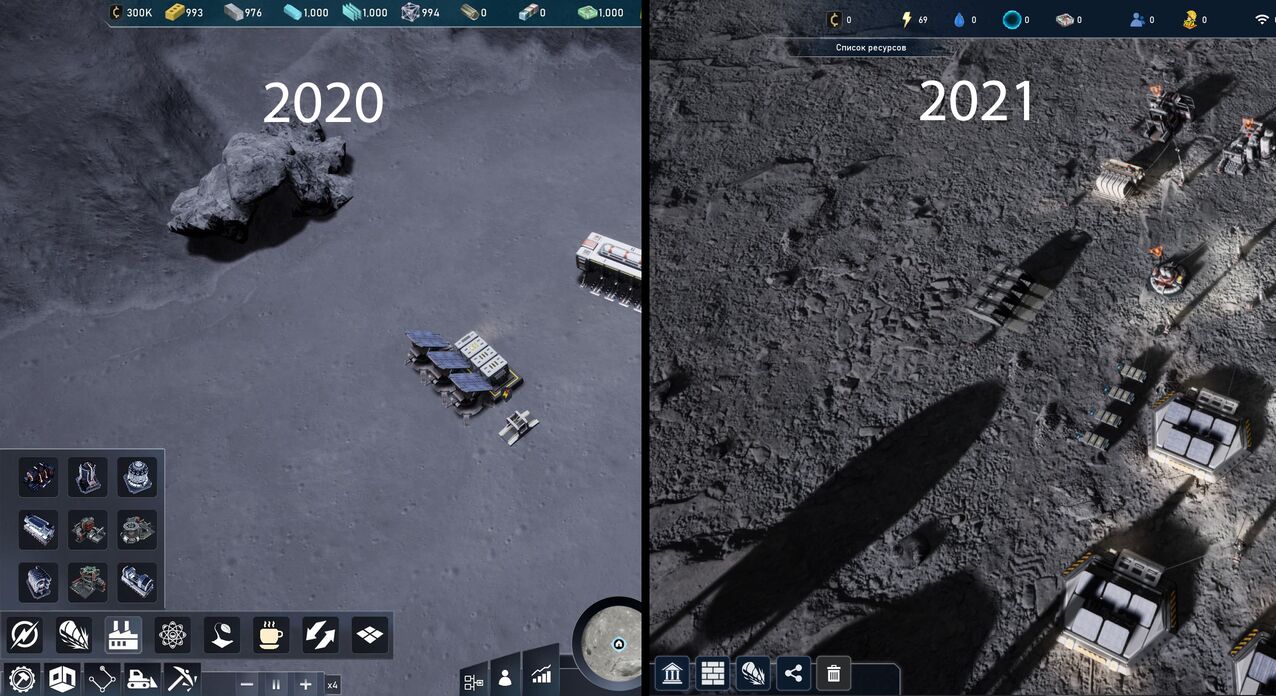 Hello, future astronauts! This is The Crust team! We've got an important message for you.
In the first half of 2021, we made huge changes in The Crust, revising and improving many game mechanics. Some were created from scratch because we were not satisfied with the quality and optimisation of old material. It was a quite demanding and painstaking process. But the result exceeded all our expectations! The game transfigured and got better all round. See for yourself.
"I believe in a visual language that should be as strong as the written word." David LaChapelle
We increased the map size almost fortyfold, from 64 x 64 to 400 x 400. By all odds, the game world got larger, more high-stability, and high-performance. There's more to explore which means more fun.
Check the visual changes – more realistic Moon landscape and more detailed game elements. See old and new gameplay trailers:
We developed a new lighting technology which is perfectly optimised and not recourse-consuming. Hooray!
We started elaboration of the UI visuals and mechanics. They will be more convenient and appealing.
"Modern technology has become a total phenomenon for civilization, the defining force of a new social order in which efficiency is no longer an option but a necessity imposed on all human activity." Jacques Ellul
The construction system got new models and animation. Now you can make your moon base more complex and implement your building design ideas.
We created a totally new utility system. It's more effective, binge-worthy, and attractive. Modules with the constraint on throughput distribute electric power to building zones.
Drones became more useful and smart. They may have one of three specialities: universal (these drones may build, carry light cargo, repair, dismantle), drilling, and transporting (these carry heavy load). Upgraded AI helps the robots bypass obstacles and dangerous zones faultlessly.
"We might as well reasonably dispute whether it is the upper or the under blade of a pair of scissors that cuts a piece of paper, as whether value is governed by demand or supply." Alfred Marshall
Trading and resource exchange is a substantial gameplay part in The Crust, that's why we made a deep and flexible market system from the ground up. It's not just a "buy-and-sell" scheme. A Player's actions and game events influence the market, so economics changes all the time, and a player has to follow its dynamics to stay on top.
Now you can conclude contracts on the production and delivery of particular resources to Earth. Agreements may be short-term or long-term, and they impact on the resource market, relations with fractions, and stability on Earth.
We wanted our trading and resource exchange system to have realistic logistics. So, when you buy resources, you cannot use them until they are actually delivered to your base. The selling scheme works the same way: you get money on your account when the sold goods are delivered to the purchaser.
We upgraded the mining system. Regolith mining and extraction of useful resources from the material is the fundamentals of economics in The Crust. In our game the mechanic is original. Each regolith piece has unique composition depending on mine site location. To get the larger amount of necessary resources after processing a player should wisely choose a place for mining.
"Taking care of your employees is extremely important and very, very visible." Larry Ellison
Human resources are essential assets in economic prosperity. In The Crust human factor influences the success of a player's company growth. AE of colonists is based on advanced Behavior V.3 system. Each colonist has their particular characteristics and preferences which affect their behaviour. This information is contained in the colonist' personal card.
Our colonist system allows you to choose a profession for your colonists and manage their schedules. But to work productively everyone needs to rest from time to time. Don't forget to care about the sleep and leisure of your colonists, and they will do their job in the best way.
And don't forget that the system based on Behavior V.3 is perfectly optimised and now hundreds of people may live on your lunar base without breaking a smooth game flow.
Of course, in addition to the above, there are many hotfixes, bugfixes, and other -fixes made. :)
Being the Unreal Engine Dev Contest 2020 finalist and winner (see more here: https://unrealcontest.ru/2020/...), we are excited to be back to the competition in a year (https://unrealcontest.ru/2021/...). We hope our presentation will be deserving.
From now on we will tell you in detail about updates of different game mechanics, share new story trailer, dev diaries, etc. Like, subscribe, and keep in touch. ;)